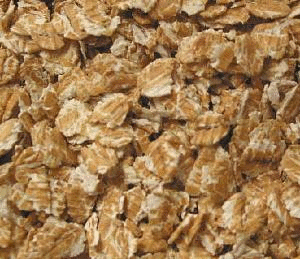 Wheat, Rolled Flakes, Organic, 5 lbs. by Montana Milling
---
Limited Items Selling Fast
poup with stuff in it
close
---
Wheat, Rolled Flakes, Organic
These tasty flakes may be used as a cooked cereal. They are less tender than Oat Flakes and make baked goods which are more chewy. Used in granolas and mueslis.
This flaked grain is produced through a series of processes. First it is dehulled. It is then hydrated (usually through steaming). Next it is gently and briefly heated before passing through a rolling mill. Before packaging it is thoroughly cooled. This processing stabilizes the grain, meaning the enzymes are neutralized to prevent oxidation and rancidity. The heating transforms the starches to more simple sugars, making them more easily digested.
Nutrition Facts
Serving size: 1/2 cup cooked
Nutrient Amount
Calories 81
Fat <1 g
Carbohydrate 17.2 g
Dietary Fiber 3 g
Sodium 0 mg
Protein 3 g
Cooking Instructions: Add 1 cup grain to 4 cups boiling water. cover, reduce heat, and simmer for 15 to 20 minutes. If pressure cooking, cook for only 8 to 10 minutes.
Grown in Montana.
Real time shoppers on site
stock running low.