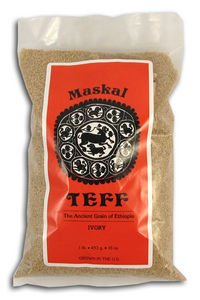 Teff Ivory Grain, 25 lbs
Regular price $50.75 Sale
---
Limited Items Selling Fast
poup with stuff in it
close
---
Maskal Teff, Ivory. The Ancient Grain of Ethiopia.
Teff is a delicious grain with high quality complex carbohydrates, proteins, minerals and fiber. Teff grain can be eaten as cereal or polenta. Brown Maskal Teff is rich in flavor with a subtle nutty aftertaste. Ivory Teff is milder in taste, but equally nutritious.
INGREDIENTS: Whole Grain Teff.
Nutrition Facts:
Serving Size: approx. 1/4 cup (45 g)Nutrient Amount %DVCalories 160Fat Calories 10Total Fat 1.0 g 2%Saturated Fat 0 g 0%Cholesterol 0 mg 0%Sodium 5 mg 0%Potassium 220 mgTotal Carbohydrates 32 g 11%Dietary Fiber 6 g 24%Sugars 0 gProtein 5 gVitamin A 0%Vitamin C 0%Thiamine 10%Riboflavin 2%Niacin 4%Calcium 8%Iron 20%
* Store in a cool dry place.
* The grain is cooked very simply. Bring three cups of water to a boil, add one cup of Teff, cover and simmer for 15-20 minutes or until the water is absorbed. Toward end of cooking stir occasionally.
* Tasty recipes using teff grain and flour are contained in the enclosed leaflet.
* Grown in the U.S.
Real time shoppers on site
stock running low.