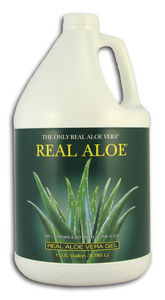 Organic Aloe Vera, 1 Gallon, Case of 4
Regular price $87.88 Sale
---
Limited Items Selling Fast
poup with stuff in it
close
---
The Only Real Aloe Vera. Organically Grown Real Aloe Vera Gel.
Real Aloe History: Real Aloe has been in the Aloe Vera business since 1972. We use only fresh Aloe leaves grown in the U.S.A.; therefore, the Aloe Vera used in our products has never been frozen, freeze-dried, or reconstituted from a powder. We believe the original method of "hand filleting" the leaves, allows us to maintain the maximum biological activity and effectiveness from the aloe leaf.
Real Aloe's Aloe Vera is one of the only Aloe Vera products on the market today that is 100% grown and bottled in the U.S.A. If you are not drinking Real Aloe today, ask where your Aloe Vera is grown, processed and bottled. Many Aloe Vera products today are made in China, Korea, and Mexico.
Real Aloe contains over 150 nutrients in a whole food form in trace amounts (parts per million or parts per billion). Real Aloe contains NO synthetic nutrients.
Scientists have discovered over 150 nutritional ingredients in Aloe vera. They work together in a synergistic way to create healing and health giving benefits. The amino acids in Aloe vera are the building blocks of protein and influence our brain function. Humans require 22 amino acids and the body will make all of them except for eight essential amino acids which our body gets from the food/drinks that we take in. Every one of the essential amino acids are available in Aloe vera and they include isoleucine, leucine, lysine, methionine, phenylalanine, threonine, valine, and tryptophan.
Recent studies show that taking supplements with Aloe Vera will increase the absorption of these supplements by up to 200% versus taking them with water.
Supplement Facts
Serving Size: 2 fl. oz. (59 ml)
Servings per Container: 64
Nutrient Amount %DV
Calories 4
Total Carbohydrates 1 g <1%
Sodium 20 mg 1%
Real Aloe Vera Juice 20 ml *
(Aloe barbadensis Miller - leaf inner gel)
Proprietary process - 100% Hand Filleted
* Daily Value not established.
OTHER INGREDIENTS: Proprietary Processed Water, Carrageen (Irish Moss), Less than 0.5 percent of Citric Acid, Sodium Benzoate (Preservative), Potassium Sorbate (mold inhibitor).
* Suggested Use: 2 oz., 1-2 times per day.
* Store away from heat. Refrigerate after opening.
* Kosher KSA
* Organic Trade Association
* Vegan Certified
* 100% Grown and Bottled in the U.S.A.
Real time shoppers on site
stock running low.