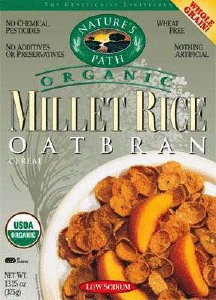 Millet Rice Flakes, Organic, 3 x 13.25 ozs. by Nature's Path
Regular price $15.99 Sale
---
Limited Items Selling Fast
poup with stuff in it
close
---
Millet Rice Flakes, Organic
Nature's Path Organic Millet Rice OatBran Flakes Cereal. Wheat Free. Low Sodium.
It has been said, "you are what you eat."" What we eat is directly transformed into blood, bones, skin, muscle and consciousness. So, where does the food we're eating come from?
We believe food, organically grown, is better for you and better for the environment. Organic foods contain no preservatives or additives, and are grown without synthetic pesticides, herbicides or fungicides which agribusiness typically sprays onto our food. These chemicals can then find their way into the soil, water, air and eventually our bodies.
Just as eating wholesome organic food helps to make healthy bodies, organic farming helps make healthy soil and a healthy planet. Our farmland is a thin layer of living earth blanketing the planet and needs to be nurtured and renewed continually. Organic farming practices enrich the soil and improve a farm's biodiversity, resulting in less soil erosion and more drought resistant farmland.
It was Hippocrates who suggested that we let food be our medicine and medicine be our food. Nothing can replace the richness and complexity of nutrients found in a varied diet of fresh, organic whole foods, and Nature's Path organic breakfast cereals are a great way to get started, every day.
What's good about this cereal? Millet Rice is a fruit juice sweetened whole grain cereal. Diets rich in whole grain foods and other plant foods and low in total fat, saturated fat and cholesterol may reduce the risk of heart disease and some cancers.
What's good about certified organic goodness? Good food: No synthetic pesticides. No synthetic herbicides. No preservatives or additives. No genetically engineered seeds or ingredients. No irradiation. Good ecology: Enriched, drought resistant soil. Less soil erosion. Less groundwater pollution. Improved farm biodiversity.
INGREDIENTS: Organic Whole Oat Flour, Organic Concentrated Grape Juice, Organic Brown Rice Flour, Organic Whole Millet, Organic Oat Bran, Organic Barley Malt Extract, Sea Salt.
May contain traces of peanuts, tree nuts, or soy.
Nutrition Facts
Serving Size: ¾ cup (30 g)
Servings per Package: About 12
Nutrient Amount %DV
Calories 110
Calories from Fat 15
Total Fat 1.5 g 2%
Saturated Fat 0.5 g 3%
Trans Fat 0 g
Cholesterol 0 mg 0%
Sodium 110 mg 5%
Total Carbohydrate 21 g 7%
Dietary Fiber 3 g 12%
Sugars 3g
Protein 3 g
Vitamin A 0%
Vitamin C 0%
Calcium 2%
Iron 6%
Store in a cool place.
Wheat-free.
WK Pareve.
Product of Canada.
Real time shoppers on site
stock running low.