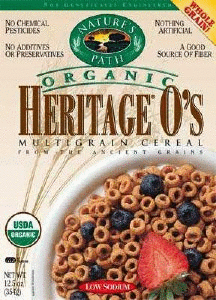 Heritage O's, Organic, 6 x 32 ozs. by Nature's Path
Regular price $60.50 Sale
---
Limited Items Selling Fast
poup with stuff in it
close
---
Heritage O's, Organic
The ancient grains in this bag ~ Kamut, quinoa and spelt ~ are virtually the same seeds that early farmers planted into the ground.
Today the conservation of heritage grains is a matter of primary concern for the entire human race.
Are you up for some diversity this morning? At present rates of extinction, as many as 60,000 food plant specials - one-fourth of the world's total - will be lost within the next 50 years. A quick head count in the supermarket reveals that nearly 90% of our food is now provided by only 20 major food plants.
The hardy 'forgotten grains' in this cereal not only taste great but are a direct link to an agricultural legacy of over 8,000 years.
INGREDIENTS: Organic Whole Oat Flour, Organic Kamut Brand Wheat Flour, Organic Evaporated Cane Juice, Organic Wheat Flour, Organic Whole Spelt Flour, Organic Barley Flour, Organic Barley Malt Extract, Organic Millet Flour, Organic Quinoa Flour, Organic Honey, Trace of Sea Salt.
Nutrition Facts
Serving Size: ¾ cup (30 g)
Servings per Package: About 30
Nutrient Amount % DV
Calories 120
Calories from Fat 0
Total Fat 0 g 0%
Saturated Fat 0 g 0%
Cholesterol 0 mg 0%
Sodium 100 mg 4%
Total Carbohydrate 24 g 8%
Dietary Fiber 3 g 12%
Sugars 3 g
Protein 4 g
Vitamin A 0%
Vitamin C 0%
Calcium 0%
Iron 7%
May contain traces of peanuts, tree nuts or soy.
As a certified organic processor, Nature's Path assures that all its organic ingredients are grown on living fertile soil, and not treated with synthetic pesticides, fertilizers or herbicides.
WK Pareve
Real time shoppers on site
stock running low.