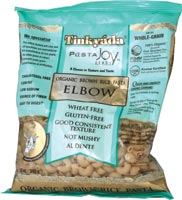 Brown Rice Elbows, Organic, 12 ozs. by Tinkyada
---
Limited Items Selling Fast
poup with stuff in it
close
---
Brown Rice Elbows, Organic
100% Rice Pasta. Elbow. Wheat free/gluten free. Good consistent texture. Not Mushy. No nut or peanut contents. Egg Free. Casein Free. Cholesterol Free. Source of Fiber. Fat Free. Sodium Free. Easy to digest. A natural health food. No preservatives added.
Just Right! Determined to be the best! We promise a delightful eating experience!
This product is made from 100% quality rice, stone-ground and formed to gourmet class. Excellent in texture and taste, it also does not contain gluten, a protein found in some other types of pasta. Tinkyada Rice Pasta is a healthy and tasty alternative to pasta with gluten, ideal for a gluten-free and a light diet.
Simple healthy ingredients, uniquely chewy and al dente mouth-feel, full body texture, a value superb...
Awarded "Certificate of Distinction (taste)" by Quality Institute International U.S.A.
Tinkyada, a leader in rice pasta manufacturing technology, quality and health oriented.
Tinkyada Rice Pasta is the result of years of research and refinement - an ultimate in the enjoyment of pasta. It cooks like any regular pasta. Award-winning taste. Al dente and not mushy. Its texture, superb.
Take a pack home today, for a healthy pasta that you and your loved ones are sure to appreciate, with joy. Guaranteed.
INGREDIENTS: Stone Ground Organic Brown Rice and Water.
Nutrition Facts
Serving Size 2 oz. (56g) makes 1 cup cooked.
Servings per Package 6
Nutrient Amount %DV
Calories 200
Calories from Fat 0
Total Fat 0 g 1%
Saturated Fat 0 g 0%
Cholesterol 0 mg 0%
Sodium 0 mg 0%
Potassium 140 mg 2%
Total Carbohydrate 44 g 15%
Dietary Fiber 1 g 6%
Sugars less than 1 g
Protein 5 g
Vitamin A 0%
Vitamin C 0%
Calcium 0%
Iron 4%
Thiamine 10%
Riboflavin 1%
Niacin 8%
Manufactured in a wheat-free factory premise. We specialize.
Stove-top cooking instruction: Put one package of pasta into 4 quarts of boiling water and add a tablespoon salt (do not add salt if on a sodium free diet). Stir occasionally and cook for 11-13 minutes until desired tenderness is reached. Rinse with cold water. Drain well. For best results, rid pasta of surface moisture. Can be served hot or warm with any kind of pasta sauce or in your favorite pasta recipes, in hot soup, in salad, stir-fried, or as a casserole. Use it as you would like any regular pasta.
This rice pasta does not contain wheat or gluten and is recommended for the dietary management of those who have gluten-intolerance (celiacs). We specialize in rice pasta, and strictly enforce a manufacturing premise without wheat, gluten, dairy, meat, corn, soy, nut or peanut.
100% Organic.
Casein Free.
Egg Free.
Wheat Free.
Gluten Free.
Kosher Certified.
Product of Canada.
Real time shoppers on site
stock running low.